The INTAP company is a producer of high quality seats designed for buses, minibuses and special vehicles (ambulance, police, fire brigade).
We started in 1980 and we were developing step by step and it is still our goal. We want to improve in every aspect of our business, so that our car seats: buses, microbuses and special vehicles, eg ambulances; meet the expectations of users.
Taking into account importance of measures to remedy the climate we jointed the project BIOMOTIVE.
The goal of this project is reduction of greenhouse gas emission and facilitating of the recycling of polyurethane components.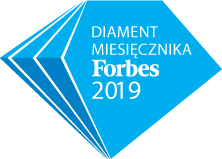 We was distinctive in Forbes magazine rank "Diamenty Forbesa 2019".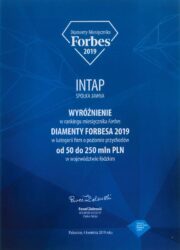 2019
Intap became part of Polska Grupa Motoryzacyjna (Polish Automotive Group)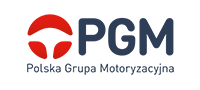 2018
We was distinctive in "GALA BIZNESU" and "PULS BIZNESU"
2015
Intap became distinct in "LODOŁAMACZE"- Prize for social sensitive companies.
2012
New family for bus and M1 vehicles. "NOVIS" and "VERIS" gives us opportunity to cooperation with a lot of new customers.
2012
Our next step was another family of seats- "TAXI" was developed in 2010.
2010
Next year brought new solutions and user needs. We created new family of seats – "AMBIS" and "MEDIS"
2008
We create "EKOLIDER" seat. We are produce it to present day and a lot of our customers still love it.
2006
New department arise- R&D creating "KAPITAN M1", "KARETKA M1" and "Ergobus".
2004
Company became distinct by President of Lodz in "ŁÓDŹ PROPONUJE 2000" for best products produced in Lodz category.
2000
We started produce new type of bus seat named "BUS" and microbuses seat named "KADET"
"KADET" enable us to start cooperation with Ford Distribution (Ford Polska now).
1998
This year we started cooperation with Fabryka Samochodów Ciężarowych ( later Deawoo Motor Polska). Thanks to that we became seat supplier for buses based on "Lublin".
1998
Same year and another big decision- buying a property in Bukowiec near Łódź. We are here to present day.
1997
In 1997 there was another milestone in our history. Our first seat named "Intap" arise. It was tested in regulation EKG ONZ 80. This enabled us to offer this product in a tender for 521 vehicles based on Ford Transit for polish Police Department.
1997
New age for our company- decision to change name from Tobik to Intap.
1995
Further development period for the company. All the time it dealt with improving seats and adaptation of delivery vehicles for passenger cars. Several hundred vehicles adaptation are made on various bases:
– Toyota Hiace
– Mistubishi L300
– Mercedes MB100
– Mercedes T1
– Volkswagen LT
1989
When the "wind of changes" started blowing, people began to makes a trips. Travel comfort started to be important in cars like:
– Polski Fiat 126p
– Skoda 105 L
– Dacia 1310
In that time Krzysztof Tobik made utility model for reclinable mechanism for seats these cars.
1984
Story of our company began in October 1980, when Krzysztof Tobik made decision about starting his own company. First headquarter was in small garage- 24m2.
Before that Krzysztof Tobik achieved master's license of locksmithing, so he could teach new apprentices.
Beginnig of the 80s was very hard due to historical and political difficulties. Problems with availability of raw materials and tools to run produce. Despite these problems, he decided to produce a "grzybek" stove and so-called "Trociniak", which become a hit of these "strange" months. Next step was the production of tools for agriculture and artistic blacksmithing.
1980